Are you going to Olympeaq?
PEAK PERFORMANCE IN TOKYO 2020
The Olympic Games is the largest sporting event in the world. Athletes do everything to peak at an exact moment. But, do they know about the possibilities blue light offers? Since the Olympic Games in Beijing 2008, sleep/wake expert and light specialist Toine Schoutens has been helping top athletes be at their best at a specific time in some part of the world. The first benefit is the prevention of jet lag, which lets their on-site training time be used sooner and more effectively. In addition, tuning the biorhythm of each individual athlete to the competition schedule can make a big difference. Every person's body has its peak moments during the day. What could be better than flawlessly matching the maximum ability with the performance time. Many top Olympic athletes and teams have embraced this phenomenon. It is not a matter of gambling, but pure applied science.
HOW EXACTLY DOES IT WORK?
Blue light suppresses the night hormone melatonin. This hormone is naturally produced in the evening by the pineal gland (epiphysis). Melatonin gives the body the signal to begin preparing for the night. While we sleep, restoration of many body processes takes place, making sleep indispensable for cognitive and physical functioning, and overall health in general. The rhythm of the secretion of melatonin is partly controlled by the biological clock in the brain (SCN – Supra Chaismatic Nuclei). SCN is in turn controlled not only by clock genes, but also by the light that enters the eye. The eye's retina has special ganglion cells (intrinsically-photosensitive retinal ganglion cells ipRGCs) that control the SCN under the influence of the photo pigment melanopsin and light. Even a very low intensity blue light (460 – 480 Nm) has the most influence on the suppression of melatonin production. In addition to being the "night hormone," melatonin is also a strong antioxidant and can eliminate harmful free radicals. Another powerful effect of blue light in the morning is that it triggers the cortisol awakening response. When blue light is used intentionally and according to a specific schedule, an athlete can begin his / her carbohydrate combustion earlier, which heats the body up earlier so that energy becomes available faster.
Red light, on the other hand, does not suppress melatonin production. This creates a functionality whereby the correct timing of blue light exposure results in a phase shift of the sleep/wake rhythm to an earlier or later period. This dos not affect the duration or quality of sleep. For a shift to a later time point, blue light is used for 30 minutes just before sleeping. In this way, a maximum shift of two hours can be shifted per day. To shift to an earlier time, it works the other way around. Blue light is used for 30 minutes right after waking and the red lenses are used in the evening. Using this process, usually 1.5 hours of shifting per day can be achieved.
MORE THAN 450 OLYMPIC ATHLETES FROM 11 COUNTRIES ARE USING PROPEAQ LIGHT GLASSES.
More than 50 athletes from 5 countries used Propeaq light glasses during the 2018 Winter Olympics in PyeongChang. 13 of the them won medals – 5 gold, 5 silver and 3 bronze:
Carlijn Achtereekte, Ireen Wüst, Antoinette de Jong, Sjinkie Knegt, Yara van Kerkhof, Jorien ter Mors, Suzanne Schulting, Lara van Ruijven, Antoinette de Jong, and Ramon Zenhäusern
18 medals for the Netherlands, Belgium, Australia, and the United States in Rio, 2016:
Ferry Weertman, Sanne Wevers, Daphne Schippers, Anicka van Emden, Pieter Timmers, Jolien D'Hoore, Dirk van Tichelt, Christian Taylor, Kyle Chalmers, Mack Horton, Emma McKeon, Mitch Larkin, Madeline Groves, and Team Dolphins
TWO NON-OLYMPIC TOP SPORT EXAMPLES
FORMULA 1 IN BAHRAIN
In Bahrain, the Formula 1 race happens at night. It's a great spectacle, but racing in artificial light has it's dark side. Reduced visibility aside, this mainly concerns the disruption of the drivers' biological clocks. When darkness falls, instead of getting the brain ready to deliver a top performance, the biological clock tells the brain that it is time to go to sleep and let the body recover. Usually, these top performances are achieved late in the afternoon, around 5 or 6 pm. Racing later comes at the expense of concentration, alertness and reaction speed. Not a problem for a mere mortal, but for a driver racing through the desert at 300 km/hr, these factors must be considered. Fortunately, exposure to blue light at the right time provides the solution.

CYCLING WORLD RECORD HOLDER VICTOR CAMPENAERTS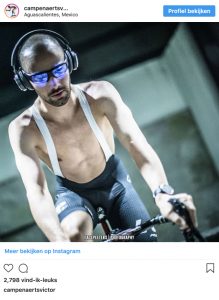 Victor's attempt at a world record had to take place under the most ideal conditions. In addition to factors like training, air resistance, and nutrition, the correct biorhythm is extremely important. With our chrono-biotechnology and the use of light glasses, Victor's peak biorhythm was shifted from 5pm to 11am. By wearing the light glasses for half an hour each day at 5am, his body thought the day had started and the production of the night hormone melatonin was suppressed. Every day, Victor went to bed at 8pm, putting on our glasses with the red lenses from 7pm to completely filter the ambient blue light. This is perfect for enabling the body to fall asleep quickly. In this way, we shifted the peak power of his body to the moment of the world record attempt. The maximum physical capacity at the right time.

EXAMPLES OLYMPIC EXPERIENCE AND PREPARATION
SUPPORT FOR OLYMPIC ATHLETES AND TEAMS
Toine Schoutens has more than 15 years of guiding top athletes to their peak performance on the world stage. From individual guidance and monitoring to support for entire teams. Toine has also transferred his expertise to several coaches through a train-the-trainer process. His recommendations cover not only all factors related to light before and during peak performances, but also the impact of nutrition, sleep, and other relevant issues. Toine and his team often work with other specialists. Toine's background in healthcare and biomedical sciences adds value time and time again, working medical experts, performance managers, and physiotherapists that support the athlete. Below are the three most common areas where Toine and his team can provide direct support.
INDIVIDUAL
Propeaq light glasses system
Basic Chronotype recommendation, and usage advice
Travel advise, travel schedules, jet lag reduction
Use of Propeaq light glasses + App
Advice on training and training times
Tuning sleep/wake rhythms to tapering programs
Assistance with sleeping and waking, sleep monitoring, possible
TEAM
Propeaq light glasses system for all team members (volume discount)
Basic Chronotype recommendation, and usage advice
Travel advise, travel schedules, jet lag reduction
Use of Propeaq light glasses + App
Advice on training and training times
Tuning sleep/wake rhythms to tapering programs
Assistance with sleeping and waking, sleep monitoring, possible supplement policy
Determining and supervising the peak performance moment
Training for Chrono Performance Management – train-the-trainer
TEAM INCLUDING CUSTOMIZATON
Propeaq light glasses system and customization for specific sport
Advanced Chronotype recommendation, and usage advice
Travel advise, travel schedules, jet lag reduction
Use of Propeaq light glasses + App
Advice on training and training times
Tuning sleep/wake rhythms to tapering programs
Assistance with sleeping and waking, sleep monitoring, possible supplement policy
Determining and supervising the peak performance moment
Training for Chrono Performance Management – train-the-trainer
Project/system management on location, choice of hotel, training location